Breathe new life into your skin with the only oxygen facial that exfoliates and oxygenates from within
Three things are key to a healthy, glowing complexion: great circulation to nourish skin, thorough exfoliation to clear away dullness and debris, and antioxidants to for skin cell repair. With the Geneo™ 3-in-1 Super Facial, you can get all of these key factors in a single, soothing treatment that leaves skin glowing for days!
What is the Geneo™ 3-in-1 Super Facial?
Geneo™ is a skin resurfacing facial that takes oxygen facials to a new level. Not only does it help your skin oxygenate from within (other facials just blow air onto the skin), it also exfoliates and clears away dull, dead outer layers of skin to effectively reduce fine lines, sun damage, and other imperfections—plus, it feels amazing to get an Geneo™ 3-in-1 Super Facial!
Get the 5-star patient care you deserve at LJCMS
Our promises to you
What are the benefits?
There are so, so many! The Geneo™ 3-in-1 Super Facial is:
Safe for any skin type
Suitable for acne and sensitive skin
A no-downtime treatment
Really effective, with oxygenation that actually improves your skin(more on that below)
Non-irritating with virtually zero risk of side effects
An instant-results treatment; you'll walk away with skin that looks and feels dramatically better!
Perfect to get glowing, radiant skin for a special occasion
How can an oxygen facial help my skin?
Every cell in your body depends on a healthy oxygen supply to survive and function optimally. Skin that has plenty of oxygen produces more collagen, stays better hydrated, and can utilize nutrients much more readily than oxygen-deprived skin. In short, oxygenated skin looks and feels younger and healthier.
How does the Geneo™ 3-in-1 Super Facial work?
We can customize Geneo™ to focus on either improving skin tone and coloration, or on reducing wrinkles, by choosing one of the following serums:
NeoBright: balances skin tone and reduces pigmentation irregularities
NeoRevive: delivers a boost in hyaluronic acid and peptides to minimize wrinkles
We'll massage one of the above serums into the skin on your face, neck, and/or décolletage, and then begin the Geneo™ 3-in-1 treatment. While there are three distinct actions, the Geneo™ completes them all at once.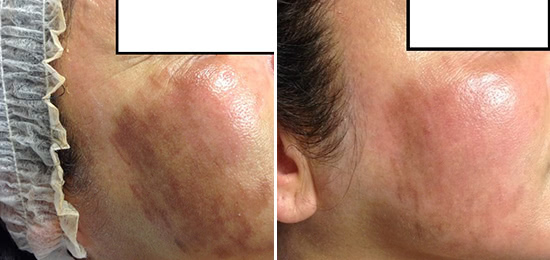 1: Exfoliation:  removes debris, reveals healthier skin, and improves serum absorption
A patented Capsugen™ capsule tip removes dull, dead skin cells without abrasion or vacuuming, for thorough exfoliation and instant glow without irritation.
2: Oxygenation: boosts oxygen supply and improves circulation
At it exfoliates, the Capsugen™ capsule coats the skin's surface with carbon dioxide bubbles, momentarily depriving the skin of oxygen. Your body responds by sending more blood to the skin, which improves oxygen levels from within. This proprietary technology oxygenates individual skin cells significantly better than facials that just blow oxygen onto the skin's surface.
3: Serum infusion: reduce signs of aging and improve skin texture
Freshly exfoliated and oxygenated skin is hungry for nutrients! Geneo™infuses nutrient-rich serum deep beneath the skin's surface at a prime time to use it toward skin cell repair and new collagen production.
Book your Geneo™ 3-in-1 Super Facial today!
Our experienced aestheticians at La Jolla Cosmetic Medical Spa are famous for helping patients get amazing skin and have fun while doing it. Call (858) 452-2066 to book your appointment today!