Restore your natural hair without major surgery and no visible scarring!
We don't tend to give much thought to hair loss—until it starts happening to us. If you're self-conscious about thinning hair or bald spots, you are far from alone. Fortunately, hair replacement options have drastically improved since the days of strip surgery and spray-on "hair in a can."
SmartGraft® is an advanced FUE (follicular unit extraction) hair transplant system. Using the latest minimally-invasive pneumatic technology, SmartGraft allows our hair restoration specialists to repopulate thinning or balding areas with your own natural hair, restoring a totally natural hair pattern.
SmartGraft® offers numerous benefits over other hair transplant options:
Little-to-no downtime. Most patients return to work after a long weekend off, with minimal discomfort after treatment.
No linear scar. SmartGraft removes the individual follicular from the back of your head. There are no scalpel incisions and no linear scar. You can wear your hair long or short after SmartGraft® without a long scar to hide.
Superior "take" rate. SmartGraft's proprietary technology keeps hair follicles healthy and intact. Follicles are gently extracted using gentle suction, and then held in a special cooling chamber, which provides optimal conditions for follicle survival.
Natural, durable, low-to-no maintenance results. SmartGraft® hair transplants can be cut, colored, and styled as you like. You can swim and have sex with confidence. It's just like your natural hair (because it is).
A great option for treating male or female hair loss. There's no standardized pattern with SmartGraft®—our experienced hair restoration team personalizes each treatment to relocate the exact number of hair follicles, in the exact pattern, that will achieve your goals and blend naturally with your existing hair.
Why choose the Hair Transplantation Center at LJCMS?
Excellent hair transplant results require a specialist who has the training, skill, and aesthetic expertise to design a natural hair pattern. Our hair restoration specialist at La Jolla Cosmetic Medical Spa is LJCSC board certified plastic surgeon Dr. Hector Salazar-Reyes.
Dr. Salazar trained alongside one of the world's most highly respected hair transplantation experts, Houston surgeon Dr. Alfonso Barrera, where he mastered the latest hair restoration technologies and honed his expertise in aesthetic principles of hair replacement for men and women. He personally designs every hair restoration treatment plan and works closely with our medical spa providers to deliver an excellent experience and even better results!
The SmartGraft BOOST System, only at LJCSC & LJCMS
We go above and beyond to ensure our patients get the best possible results. When you book your SmartGraft procedure with us, you'll get the entire SmartGraft BOOST System:
SmartGraft FUE hair transplants with one of San Diego's most highly trained hair restoration teams
PRP (platelet-rich plasma) therapy to optimize hair follicle growth and slow further hair loss
Personalized hair growth supplements to promote healthy hair growth
Personalized, clinically proven products from Hair Restoration Laboratories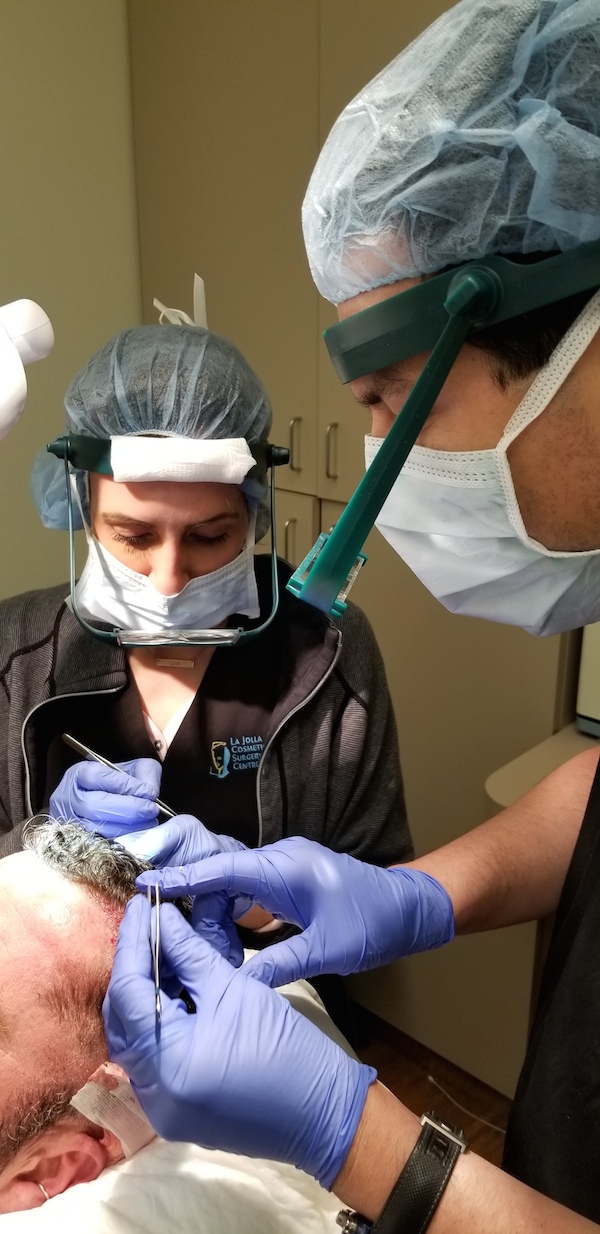 Get the 5-star patient care you deserve at LJCMS
Our promises to you
What to expect with SmartGraft® at LJCMS
The average procedure takes about five hours and is done in our outpatient treatment rooms by LJCSC board certified plastic surgeon Dr. Hector Salazar and our medically trained LJCMS providers.
We will first shave a small area from the back of your head. You do not need to get a buzz cut for the procedure. (Dr. Salazar can also refer you to San Diego stylists who perform haircuts that look great with the back of the head shaved.) We will then numb the donor and recipient areas with a local anesthetic to keep you comfortable throughout treatment.
Using SmartGraft's automated technology, our hair transplant team will carefully extract individual follicular units from the back of your head. Each follicle is immediately transferred to the SmartGraft protected cooling chamber to await transplantation. Finally, each follicular unit is transplanted to fill in thinning or balding areas. This is the most time-consuming step, as we carefully place each follicular unit to achieve a totally natural hair pattern.
What is the recovery after SmartGraft?
Following the procedure, most patients return to desk work the very next day. Exercise can usually be resumed after about one week. New hair growth takes about 3 months to come in. The most dramatic improvements occur after about 6 months. After one year, your transplanted hair will be indistinguishable from the pre-existing hair.
How long do SmartGraft transplants last?
Surviving transplanted hair follicles grow naturally and often remain active for a lifetime. However, no hair transplant procedure can prevent new hair loss in untreated areas. SmartGraft can be repeated to touch up new areas of thinning that may occur. Our SmartGraft BOOST package (see above) also helps prolong results for our patients very effectively.
Learn more about SmartGraft® hair restoration in this video
How much does SmartGraft cost?
The total price of your SmartGraft® procedure will depend on a number of factors, including:
The number of balding or thinning areas you wish to treat
The number of FUEs needed to achieve a satisfactory result
Your personal goals
We will give you an individualized fee quote at the end of your free consultation with Dr. Hector Salazar.
Have more questions? Call us at (858) 452-2066 for a free consultation.